• January 8, 2020 - Red Carpet theatrical premiere of "Shelby American: The Carroll Shelby Story": Hollywood, CA
• January 12-14, 2020 - Barrett-Jackson Opening Night Gala and Auction: Scottsdale, AZ
• January 26, 2020 - Bruce Meyer's American Car Cruise-In and Shelby Tribute: Los Angeles, CA
• February 8, 2020 - 18th annual Dr. George Charity Car Show: Aerovault display - Indian Wells, CA
• March 6-9, 2020 - Amelia Island Concours d'Elegance: Aerovault display - Amelia Island, FL
• June 21, 2020 - Eyes on Design - Stay tuned for some exciting announcements from this high quality car show focused on design! - Grosse Point Shores, MI
•September 4-6, 2020 - Virginia Festival of the Wheel - Charlottesville, VA
2019
• February 9, 2019 - 17th annual Dr. George Charity Car Show: Aerovault display - Indian Wells, CA

• March 1-3, 2019 - ToyCon: Las Vegas, NV

• March 9 - 10, 2019 - Amelia Island Concours: Aerovault Display

• March 11-12, 2019 - Motorsports Hall of Fame of America: Daytona, FL

• April 11, 2019 - RRDC Dinner: CA

• April 17, 2019 - New York Auto Show Press Day: New York, NY

• May 3-5, 2019 - Kastner Cup: Button Willow Raceway, CA

• June 8, 2019 - POCA Fun Rally: Reno, NV

• July 4-8, 2019  - Goodwood Festival of Speed: England

• August 13-18, 2019 - Monterey Car Week: Monterey, CA

• Sept 21, 2019 - Japanese Classic Car Show: Long Beach, CA

• Oct 12, 2019  - BRE Open House: Henderson, NV

• Oct 25-27, 2019 - Las Vegas Concours d'Elegance: Las Vegas, NV
2018
February 3

 - Mr. K Fun Run at BRE Headquarters

February 10 - 16th annual Dr. George Charity Car Show: Aerovault display - Indian Wells, CA

March 9 - Porsche Werks Reunion: Aerovault Display - Amelia

March 10-11 - Amelia Island Concours: Aerovault Display

April 7 - Blackhawk Museum: Peter Brock presents BRE Datsun History

April 27-29 - Diecast Convention: Peter Brock autograph sessions - Mexico City

June 9 - Datsun Northwest Canby 2018 - Canby, OR

August 3-5 - SAAC Convention - Sonoma Raceway, CA

August 12 - Diecast show: Peter Brock appearance - Riverside, CA

August 18-26 - Monterey Car Week - Monterey, CA

September 1 - Shelby American Collection Annual Party & Car Show - Boulder, CO

September 22 - Autograph session at Autobooks - Aerobooks - Burbank, CA

October 5 - BRE Open House - Henderson, NV

October 13 - No Krew Krew Custom Contest - Henderson, NV

October 16-20 - ZCON - Atlanta, GA

October 21 - De Tomaso United Banquet - Sebring, FL

October 30 - November 2 - SEMA - Las Vegas, NV

December 6 - 8 - Performance Racing Industry Show - Indianapolis, IN
2017
Jan 21

- Peter Brock Induction into SCCA Hall of Fame

February 11 - Concours in the Hills

March 10-12 - Amelia Island Concours d'Elegance & Porsche Werks Reunion

May 19-21- Indiana Shelby American Automotive Club's 40th Anniversary Show

June 2-5- Couture Show Las Vegas

June 30-July 2- Pacific Northwest Historics

Aug 16-20- Monterey Car Week

Aug 31-Sept 1- Peter Brock Induction into Corvette Hall of Fame

Oct 6- BRE Open House

Oct 31-Nov 3- SEMA - at the Braille Battery booth

Nov 16-18- Mecum Auction Las Vegas
2016
Jan 28-31 - 

Barrett Jackson - Scottsdale

Feb 20 - BRE Team 50th Reunion

March 11-13 - Amelia Island Concours d'Elegance

April 14 - Road Racing Driver's Club Dinner Long Beach

April 14 - Dan Gurney 85th Birthday Celebration

June 24-26 - Kansas City Concours

Aug 16-21 - Monterey Car Week

Sept 2-5 - Lime Rock Historic Festival

Sept 24 - Red Rock Concours dinner presentation

Sept 25 - Red Rock Concours

Sept 30 - BRE Open House

Oct 13-15 - Barrett Jackson - Las Vegas

Nov 1-4 - SEMA

Nov 16 - Simeone Foundation's Spirit of Competition Award
SHELBY Red Carpet Theatrical Premiere
Date: January 8, 2020
Location: Montalban Theater Hollywood, located at 1615 Vine Street, Hollywood, CA 90028
Hollywood Premiere of Shelby American film!" Wednesday January 8, 2020
Join Peter Brock and other Shelby American employees Wednesday night for the theatrical premiere of the documentary "Shelby American: The Carroll Shelby Story".
You may have seen this film already on Netflix but imagine seeing it on a big screen with some of the people that made Shelby American what it was. The film follows Shelby's life using his own testimony and that of the people who worked for and around him both on and off the track, including Peter Brock, who worked for Carroll from 1961 through 1965 (to read more about that period, check out the history section of our BRE website here).
This is a unique Hollywood theater which is worth a visit just on its own.
Schedule:
• 6:30 PM Red carpet meet-and-greet
• 7:30 Screening begins!
• 9:45-10:30 VIP afterparty
---
Barrett-Jackson Scottsdale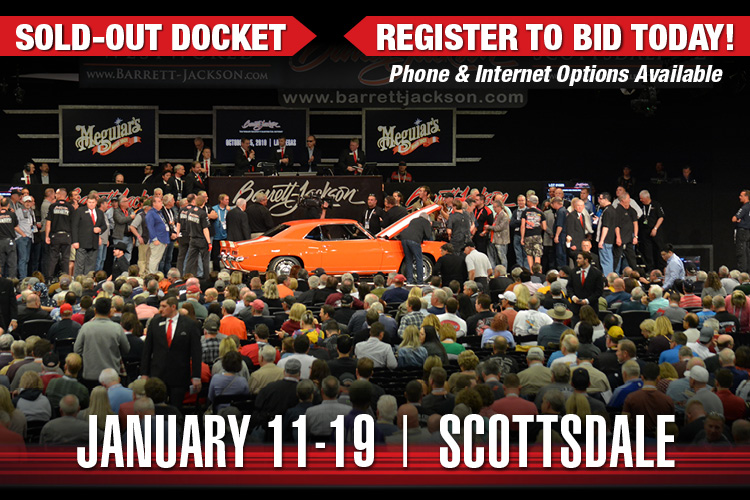 Dates: January 12-14
Location: Westworld of Scottsdale: 16601 North Pima Road, Scottsdale, AZ 85260
Peter and Gayle Brock will be attending the Barrett-Jackson Opening Night Gala Sunday night the 12th and walking the auction earlier that day and Monday. The auction continues throughout the week but they'll be returning back to BRE and Aerovault on the 14th. Will they see you there?
---
Bruce Meyer's American Car Cruise-In and Shelby Tribute
Date: January 26, 2020
Location: Peterson Museum: 6060 Wilshire Blvd. Los Angeles, CA 90036
Time: 8:00am - 12:00pm.
Join Peter Brock, Peter Miles, Aaron Shelby, and Charlie Agapiou for this Cruise-In honoring Shelby American. Great conversation, amazing performance and classic cars, including Peter Brock's personal Daytona Cobra Coupe.  The show ends with a one-of-a-kind panel with Brock, Miles, Shelby and Agapiou.